These CBD infused oils from FLWRFOOD have been life changing. I was lucky enough to have gotten Carpel Tunnel in my early 20's thanks to constant overuse of my wrist vein a hair stylist and typing a lot. My hands start to hurt when they are in constant use and go numb at night. I came across @flwrfood recently and was able to get a couples to try out. I took up crocheting (painful!) at the same time I received these so what better way to test out a product! I started applying the oil when I was working and found it to be very helpful! My hands didn't feel so stiff and the pain starting numbing itself out. I would reapply every couple hours and now I take it with me to work where I am typing all day. The rosemary oil I add to my salad dressings to help with my anxiety and stress. I'm so happy I found this company and look forward to trying more of their products.
Here is a break of each product.
CBD Infused Coconut Oil! Cannabis gets a bad rep and Coconut Oil doesn't get enough credit! So many benefits packed into this 1oz tincture of glory. This little gal can go with you everywhere. She's great to simply add a dropper in your morning coffee or tea, soothing in a b
ath or when added to other natural moisturizers, and an incredible quick pick me up by administering a few droppers under your tongue. She's been known to kick anxiety within minutes, ease pains and sooth skin disorders, and even fight cancer! She won't let you down.
Coco Loco(1oz-250mg CBD) – $30
Ingredients: Raw Organic Coconut Oil, CBD Flower Extract, Chamomile, Spearmint
This little guy will blow your socks off! We took some of the most incredibly savory flavors in the food spectrum and of course infused them with our favorite thing .. CBD! Rosemary, garlic & olive oil are probably three of the most commonly used ingredients used in todays kitchen. Our CBD Infused Rosemary Garlic Olive Oil is now your new sous chef! Who knew garlic and rosemary were packed with so much power?! Not to mention everything CBD has to offer. You can add this to almost every dish you create at home, or any dish you order out! Get into it .. you'll thank us later!
Rosemary Garlic(1oz-250mg CBD) – $30
Ingredients: Organic Olive Oil, CBD Flower Extract, Rosemary, Garlic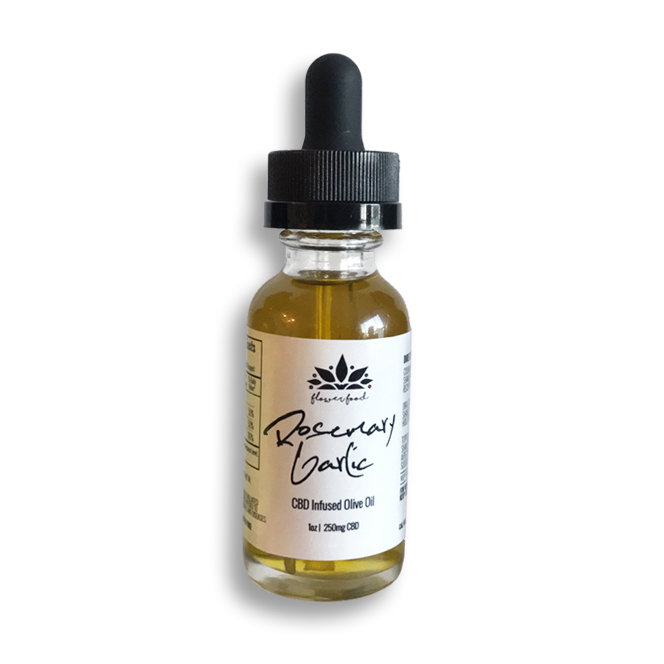 There also have a variety of other products that contain CBD oil